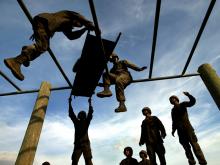 The family of a Muslim recruit who died during Marine Corps training is pushing back against claims by military officials that he committed suicide.
Raheel Siddiqui, 20, was in basic training with the Marines on Parris Island in South Carolina when he died March 7 after falling 40 feet in a stairwell. Marine officials have said that Siddiqui killed himself, but in a statement released Sept. 13 through their attorney, Shiraz Khan, the family said "they do not believe the story of Raheel committing suicide."
"We believe there is a lack of material evidence needed to support 'suicide' as the most probable cause of death in this case," the family said through Khan.