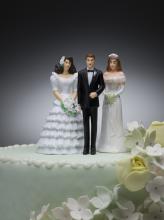 There's something romantic about a pair of lovebirds on the lamb, fleeing the authorities to keep their love alive. But add a few more wives, and not so much. When the first episode of "Sister Wives" aired on TLC featuring the poly-union of Kody Brown and his four co-star wives, Utah police announced the very next day that they would investigate the illegal union. Brown promptly relocated his brood to Nevada, leaving one intolerant state for another where polygamists are allowed to run free, and from there filed a complaint in a U.S. district court challenging the law that spurned their love.
After years of struggle, last month a Utah judge struck down the state's polygamy law , decriminalizing poly-unions in the state that has endured a relentless barrage of polygamy punch lines, even during the decades where it was expressly verboten. The case will now advance to an appeals court, but conservative harbingers are already offering "I told you sos," largely bemoaning the slide down the slippery slope of morality opened by same-sex unions.
But is morality the only way to talk about marriage and sex? Certainly the American judiciary thinks otherwise as it hammers out the constitutionality of every union under the sun. The polygamy question could broaden the discussion among evangelicals to include nuances beyond morality.