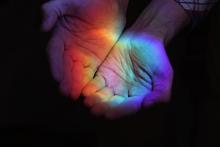 "I believe Jesus would. I don't have any verse in scripture. … I believe Jesus would approve gay marriage, but that's just my own personal belief. I think Jesus would encourage any love affair if it was honest and sincere and was not damaging to anyone else, and I don't see that gay marriage damages anyone else…" —Jimmy Carter, from his interview with Huffington Post Live
I grew up in Texas as a churchgoing Baptist. I memorized Bible verses as part of my "sword drills," went to church camp, took part in the clown ministry and even helped in the nursery.
Then I was kicked out at age seventeen for asking too many questions. My youth minister actually threw a Bible at my head and, in a less than nuanced way, invited me to move on, lest I contaminate the minds and hearts of my friends with my doubt.
Some of my questions had to do with their biblical interpretation, which was literal — and their assertion that the texts we were memorizing were the perfect, infallible Word of God, straight from the mind of the Divine to the paper on which it was written.
I had questions.