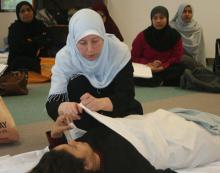 Muslim communities in Kansas City, Columbia and Jefferson City maintain small funeral facilities, often inside mosques, for washing bodies of the deceased. But until now, many Muslims buried their loved ones in Muslim sections of Christian cemeteries, relying largely on non-Muslims to guide them through the process of death.
As the Muslim population of the U.S. has grown -- the number of mosques grew 74 percent in the last 10 years, according to a 2011 survey -- so has the need for Muslim-specific services like funeral homes and cemeteries.
Jay Hardy, the owner of Jay B. Smith Funeral Homes in Maplewood, Mo., and Fenton, Mo., said that in the 1970s, he handled one or two Muslim burials a year. Today that number is up to three or four each week, he said.