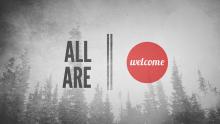 I see it on nearly every church sign, every church mailing; on the inside fold of every bulletin:
All Are Welcome!

Worship at 9 a.m. Sunday, All Are Welcome!

Potluck Dinner at 5 p.m. Saturday, All Are Welcome!

Vacation Bible School 9 a.m. Monday - Friday, All Are Welcome!

As the pastor of a Lutheran congregation outside Chicago, I find myself tagging it on — almost thoughtlessly — to our invitation cards and mailings as well.

It's almost an auto-signature for churches today: "All Are Welcome!"

And the impulse is a good one. For centuries the church has been exclusive rather than inclusive, despite Jesus' desire to the contrary. We have excluded women, African Americans, immigrants, gays and lesbians, people with special needs, senior citizens, singles, 20-somethings — at times the church has been downright discriminatory.

A friend of mine once told me he was desperate to find a church where he could not only worship but perhaps join the choir and get involved with music ministry. He brought his friend, another professional musician, to check out area churches. They found one they liked and were surprised when the minister asked them into his office. Ascertaining that they were both, indeed, gay, the minister said: "Well, you can attend. But just sit in the back row."

Thanks be to God, my friend didn't give up his search or lose his faith. He has since found an affirming congregation and leads incredible music there.

But too many of us have these stories: The congregation that saw single folks as irrelevant. The congregation that scorned Spanish-speaking immigrants. The place that found people with special needs disruptive.

Fortunately, many churches became aware of the way they had been contradicting the primary, freeing message of the Gospel: that all may be one in Christ Jesus, and that there is no longer Gentile or Jew, man or woman, black or white, slave or free, gay or straight, rich or poor ... (from Galatians 3:28).

As a needed corrective to become inclusive rather than exclusive, churches have hit upon a simple formula. It goes something like this: "Let's add 'ALL ARE WELCOME' to everything we publish. Let's make WELCOME the center of what we do."