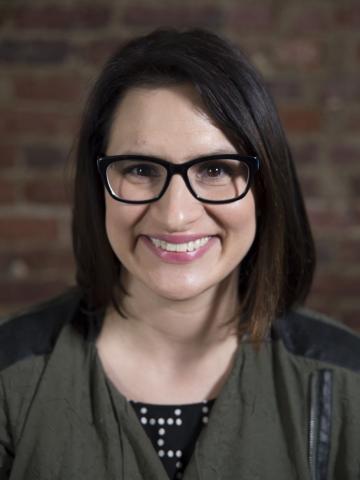 Peggy Flanagan is a dynamic trainer, teacher, and community and political organizer with more than 10 years of experience in the progressive movement. She is enrolled in the White Earth Band of Ojibwe and is an urban Indian from the great city of Minneapolis. Her vocation is to ensure that Native American people are heard within all aspects of civic engagement: community organizing, electoral politics, and the creation of public policy.
Peggy is a storyteller at heart and is a sought-after speaker on leadership development and organizing. Peggy is the director of external affairs at Wellstone Action—the country's largest progressive training center. Before assuming her current role at Wellstone Action, she directed the Native American Leadership Program at the organization.
Peggy also serves as adjunct faculty for George Washington University's Native American Political Leadership Program. Recently named as one of the top 100 most influential people in Minnesota politics by Campaigns & Elections magazine, Peggy was the First Americans GOTV coordinator in Minnesota for the 2008 Barack Obama Campaign for Change and Al Franken for Senate campaign, and served as the Native American community coordinator for the Minnesota Kerry-Edwards campaign in 2004. She was elected to the Minneapolis School Board at age 24 and was the first Native American and youngest individual to serve on that body. In 2008, she was recognized by the Minnesota Jaycees as one of the 10 Outstanding Young Minnesotans.
While it is clear that Peggy has a passion for politics, that passion is rooted in social justice and the teachings of Jesus. Peggy first connected with Sojourners while helping to organize the "Rolling to Overcome Poverty" bus tour and she never looked back. Through her involvement in Call to Renewal and now Sojourners, Peggy has found a home where her faith and politics can co-exist. She often says that she "grew up" through her participation with Sojourners over the years. She's humbled to serve on the Sojourners board.
Peggy has also served on the boards of several other community organizations, including the Native American Community Development Institute, Native Vote Alliance of Minnesota, and the Young Elected Officials Network.
Peggy is a 2002 graduate of the University of Minnesota and holds a bachelor's degree in American Indian studies and child psychology. She is a member of St. Joseph the Worker Catholic Church in Maple Grove, Minnesota.
Peggy lives in Minneapolis with her husband Tim and their dog Reuben.