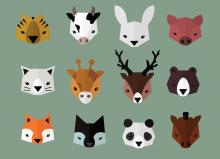 One time I took a group of people in the drug rehab program to the local zoo. Most of our group had been to prison – some for years. Most were felons. Most of the women had been prostitutes as well as addicts. Most of them had been homeless, had lengthy criminal records and had, as a group, used virtually every drug — heroin, meth, crack cocaine — and had used every deception, scam, or theft to acquire their drugs. In short, they had been desperate in ways and to a degree most of us could never imagine. If you think a hungry man will commit extreme acts for food to keep from starving, an addict will commit acts a hundred times more extreme. There are few acts an addict will not do.
And yet, few of these former addicts had ever been to a zoo.
One of these people, a woman in her mid-40s, couldn't contain her excitement as we walked into sight of the resident animals. She shrieked and ran from exhibit to exhibit — until she saw the elephants. We happened to catch the trainer as he was giving a little question-and-answer time. This woman had endless, little kid-type questions about how elephants ate, slept, how they lived, and where they came from.