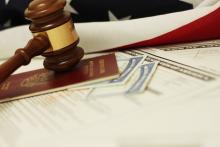 On Monday night, a Texas court temporarily halted the implementation of Obama's Executive Action announced last November. Specifically, the ruling delays the application of the extended Deferred Action for Child Arrivals (DACA) — previously slated to begin on Feb. 18 — and Deferred Action for Parental Accountability (DAPA) programs until the ruling is superseded by a higher court.  
This ploy began in December, when a combination of governors and attorney generals from 26 Republican-run states sued the federal government to block the Department of Homeland Security directives from going in to effect. This lawsuit, Texas v. United States of America, challenges the legality of both the DACA and DAPA initiatives, which together would have granted nearly 5 million immigrants eligibility for temporary deferred action and work permits. 
Here's what you need to know about the Texas vs. United States ruling in the aftermath of Monday night's decision.