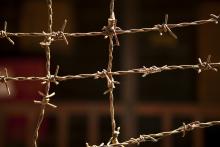 Where did you spend the July 4 this year?
I was in San Antonio, Texas, re-greening myself after a week's volunteer work in Dilley, Texas, with the CARA Pro Bono Project for incarcerated, non-criminal, asylum-seeking women and children at the South Texas Family Residential Center ... aka internment camp. 
In December 2014, this 2,400 bed facility was opened by the Department of Homeland Security in cooperation with a private prison for profit company, the Corrections Corporation of America, which staffs the prison with 700 employees. The cost to the US taxpayer is approximately $300 per person — per night. 
The time in Dilley was awful in both senses of the word — filled with awe, and appalling.