Felipe Diosdado lives in Chicago and is father to two U.S. citizen children.
Posts By This Author
What Are You Most Proud Of?
09-09-2014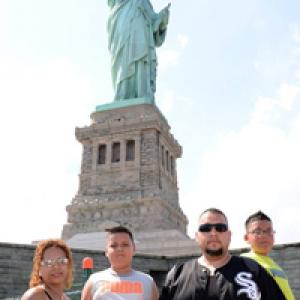 My sons, Issac and Felipe are my pride and joy. My wife and I go to church with them every Sunday, and we spend our free time at the movies or enjoying a walk through downtown Chicago. We also take road trips, one of which brought us to New York City where we visited the Statue of Liberty and Ellis Island.
I brought them there because I wanted them to see
the most important American monument in person. The Statue of Liberty is the icon of freedom and a historic welcoming signal to immigrants.
Chicago is my home. It's been that way for the past 17 years. I'm a maintenance worker at a residential building and a member of SEIU Local 1. I'm kind of living the American dream. I say "kind-of" because my undocumented status has prevented me from pursuing better job opportunities. I had the chance to become an assistant engineer at my building but declined the offer because I'm scared of losing the job if my bosses discover that I'm undocumented.