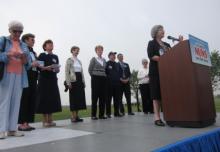 With the Statue of Liberty as a backdrop, the "Nuns on the Bus" on Wednesday kicked off a national tour for immigration reform aimed at giving a faith-based push to legislation that's now hanging in the balance in Congress.
"We have got to make this an urgent message of now," Sister Simone Campbell, head of the social justice lobby Network, which organized the tour, told a rally on the New Jersey side of the Hudson River.
"The next six to eight weeks is going to determine what we can accomplish," Campbell said as she pointed to nearby Ellis Island, the American gateway for generations of immigrants. "The time is now for immigration reform."
Champions of immigration reform believe they have their best opportunity to pass a comprehensive overhaul since 2007, when an effort backed by President George W. Bush was thwarted by members of his own party. After Republicans lost the Latino vote in last fall's elections, GOP leaders said they would be open to an immigration bill that they think could help change that political dynamic.