I have a Dream
This article was originally published in the January edition of Sojourners and is reprinted here by permission of the author.
Week after bloody week, the chart of killings lengthens. And in Afghanistan, while war rages, a million children are estimated to suffer from acute malnourishment as the country faces a worsening hunger crisis.
Around this Martin Luther King, Jr. Day, we can and should remember the dream Dr. King announced before the Lincoln Memorial, the dream he did so much to accomplish, remembering his call (as the King Center asks) for nonviolent solutions to desperate concerns of discrimination and inequality within the U.S. But we shouldn't let ourselves forget the full extent of Dr. King's vision, the urgent tasks he urgently set us to fulfill on his behalf, so many of them left unfinished nearly 46 years after he was taken from us. 
This Martin Luther King Day, the SALT project has created a short, inspiring film retelling the famous last four minutes of King's, "I Have A Dream" speech. Enjoy!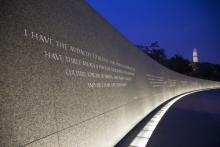 Prophets are always asking questions. Tough questions. Unsettling questions. Questions that they pose to themselves, then try to answer by how they live.
Questions such as:
What's in our hearts? Are we concerned too much about ourselves and too little about others? Do we believe in love? Why do we give in so readily to bitterness and hatred?
Why do so few have so much, while so many have so little? Aren't we all diminished by the poverty, discrimination, violence, and the various injustices in our world? Why do we glamorize violence and weapons as solutions to our problems?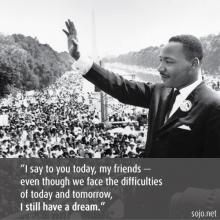 Yesterday was the 50th anniversary of a day that changed America, changed the world, and changed my life forever. I was fourteen years old on Aug. 28, 1963, in my very white neighborhood, school, church, and world. But I was watching. The Rev. Dr. Martin Luther King, Jr., became a founding father of this nation on that day, so clearly articulating how this union could become more perfect.
He didn't say, "I have a complaint." Instead, he proclaimed (and a proclamation it was in the prophetic biblical tradition), "I have a dream." There was much to complain about for black Americans, and there is much to complain about today for many in this nation. But King taught us that day our complaints or critiques, or even our dissent will never be the foundation of social movements that change the world — but dreams always will. Just saying what is wrong will never be enough the change the world. You have to lift up a vision of what is right.
The dream was more than the Civil Rights Act and the Voting Rights Act, which both followed in the years after the history-changing 1963 March on Washington for Jobs and Freedom. It finally was about King's vision for "the beloved community," drawn right from the heart of his Christian faith and a spiritual foundation for the ancient idea of the common good, which we today need so deeply to restore.
Editor's Note: The following is a transcript of President Barack Obama's speech from the Lincoln Memorial on the 50th Anniversary of the March on Washington.
We rightly and best remember Dr. King's soaring oratory that day, how he gave mighty voice to the quiet hopes of millions; how he offered a salvation path for oppressed and oppressors alike.  His words belong to the ages, possessing a power and prophecy unmatched in our time.
But we would do well to recall that day itself also belonged to those ordinary people whose names never appeared in the history books, never got on TV.  Many had gone to segregated schools and sat at segregated lunch counters.  They lived in towns where they couldn't vote and cities where their votes didn't matter.  They were couples in love who couldn't marry, soldiers who fought for freedom abroad that they found denied to them at home.  They had seen loved ones beaten, and children fire-hosed, and they had every reason to lash out in anger, or resign themselves to a bitter fate.
It may be the most famous speech of the 20th century.
Millions of American schoolchildren who never experienced Jim Crow or whites-only water fountains know the phrase "I have a dream."
And many American adults can recite from memory certain phrases: the Rev. Martin Luther King Jr.'s use of the prophet Amos' vision of justice rolling down "like waters and righteousness like a mighty stream," or the line about children being judged not by "the color of their skin but the content of their character."
To many in this country, "I have a dream" has a place of honor next to the Declaration of Independence, the Emancipation Proclamation and the Gettysburg Address. It celebrates the lofty ideals of freedom.
But scholars say it would be a mistake to celebrate the speech without also acknowledging its profound critique of American values.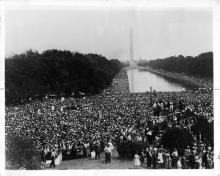 The King Center is urging communities around the world to participate in a bell-ringing ceremony next month to help commemorate the 50th anniversary of Martin Luther King, Jr.'s, "I Have a Dream" speech.
King Center officials say they have reached out to all 50 governors and to cities across the globe asking them to participate in the bell ringing at 3 p.m. ET on Aug. 28, or at 3 p.m. in their respective time zones.
"My father concluded his great speech with a call to 'let freedom ring,' and that is a challenge we will meet with a magnificent display of brotherhood and sisterhood in symbolic bell-ringing at places of worship, schools and other venues where bells are available from coast to coast and from continent to continent," said Bernice King, King's daughter and CEO of the King Center.
If there was ever a fear that the church is splintered, apathetic or dull, the passion and unity on display at the "Why We Can't Wait" May Revival on Pentecost Sunday earlier this month proved a direct contradiction to that assertion. 
The second of five events of Washington DC's Church-Wide Response to the New Jim Crow brought a diverse group of 50 faithful people to Capitol Hill's Lutheran Church of the Reformation for an afternoon of song, prayer, worship, education on nonviolence and mass incarceration, and call-to-action to work and pray for a better church and a better world.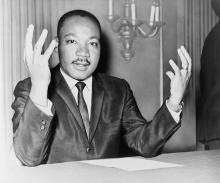 This August will mark the 50th anniversary of Martin Luther King's "I Have a Dream" speech, and there will rightly be much remembrance and celebration of its place in American history. But there is another anniversary that our nation, and especially its Christians, would do well to acknowledge, investigate, and ruminate.
Forty-five years ago yesterday, Dr. King arrived in Memphis, Tenn., to support a sanitation workers' strike seeking to unionize. He was assassinated the next day — the anniversary we today remember — and in a sad irony our nation began the sanitation of his legacy. Indeed, King's decision to join the Memphis struggle was just one of many acts that clash with what David Sirota calls the "Santa Clausified" image of King that we pass to our youth. 
Pages