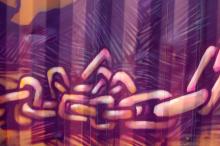 January is National Human Trafficking Awareness Month, but my wish is that we all work to make a real difference every month and every day of the year. I am a survivor of child sex trafficking. But there are other forms of modern-day slavery, like labor trafficking, that are just as evil. Human trafficking affects vulnerable women, men, children, and adults in both developed and emerging countries. Whether it is a 12-year-old runaway — like I was — or a 35-year-old man looking for a better job, vulnerable people are exploited and coerced every day.
Children who have been trafficked — as I was — often do not recognize themselves as victims. It took me decades to begin to see myself as a victim. The manipulation, exploitation, and fear put in place by my trafficker set about normalizing my trauma and also convinced me that it was all my fault.
My greatest hope and purpose in life today is to reach others in as many ways as I can so that they may never have to experience what I did for so long. We must ask important questions in order to really begin to make a difference. Here are a few of the most important questions to be asking.