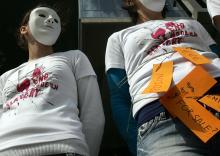 Here I am meditating on the broken body that holds the divine and the human in the mysterious way that only the Omniscient understands.
Today, I reflect on this body of Christ. It beckons me and I'm reminded once again that the violence and death that happened on that dark day lingers still. 
It lingers still because we all are created in the image of God.