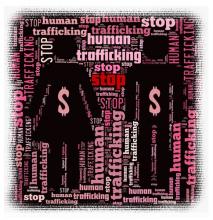 As our nation celebrates the legacy of Martin Luther, King Jr., I can't help but wonder what injustices Dr. King would fight against today. 
Would he rail against the "New Jim Crow" of mass incarceration, which disproportionately targets African-American men? Perhaps he would continue to speak out against the "most segregated hour of Christian America" — 11:00 a.m. on Sunday morning. After watching Les Miserables, I'd like to believe that Dr. King would focus on abolishing modern-day slavery.
Known as 'Humankind's Most Savage Cruelty,' human trafficking is a global phenomenon driven by the profitability of sexual exploitation. From China to Washington, D.C., millions of men, women, and children are forced into sexual slavery each year.  
Likewise, in Les Mis, we meet Fantine who unjustly loses her factory job and then, out of desperation, turns to prostitution to support her child. While she chooses to sell her body, the realities of poverty do not leave her with other options to earn a living. Not much of a choice, I'd say.