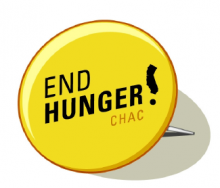 Where there is hope, there is future.
Today is Hunger Action Day.
For many in my beloved Golden State, today will go unnoticed. It will be what it always is — a Wednesday full of its special nuances with perhaps homework, meals and snacks, pleasant weather, and most definitely, a dose of stressful traffic. It will be normal. Life will be as it always is. For others however, myself included, this is the day we have been waiting for. In fact, you could even say, that this is the day we've been hungry for.
More than 300 California residents from all around the state — from the beach towns to the gritty parts of the city — have committed their day, their energy, and their hearts to visiting with their representatives to advocate for their neighbors and friends who every day face hunger. To these few hundred residents who have taken the time to journey to Sacramento, the opportunities that today provide could be life changing for thousands.