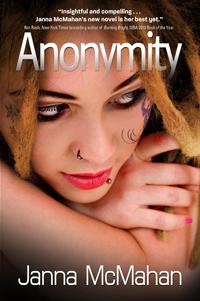 INTRIGUING AND believable characters are part of what makes Janna McMahan's new novel Anonymitya memorable read. Through the story, which is set in Austin, Texas, the author provides a well-constructed and evenly paced plot that brings to light critical themes around home and homelessness.
Early in the story we discover classic contrasts between the two protagonists. Lorelei is a young, homeless runaway whose daily grind revolves around finding food and a warm, safe place to sleep, while Emily's major mission centers on branching out from her bartending job to take up a more artistic endeavor as a photographer. One buys organic greens from the high-end Whole Foods Market, while the other seeks sustenance in restaurant dumpsters.
This interesting juxtaposition of characters reels us in. But as we swim through the thickening plot, we discover the startling similarities between the two: Lorelei's rebelliousness and grit compared to Emily's disdain for the superficial lifestyle of big-box shopping and Corpus Christi vacations; Lorelei's refusal to seek help and get off the streets weighed against Emily's desire to break from the overindulgence she grew up around. As Emily's mother, Barbara, observes, "Emily liked the frayed edges of life, a little dirt in the cracks." It should come as no surprise that Emily takes an interest in Lorelei's hardscrabble existence.
So much about Lorelei remains a mystery, which serves to add tension and compel the reader forward. We sense she is searching for something, and there's no way to prepare for the powerful punch McMahan delivers when we discover what Lorelei's quest is about.
At the same time, we follow Emily on a kind of hunt of her own—a hunt for freedom from the status quo as she attempts to separate herself from materialistic parents and a society that insists happiness requires a college degree, a high-paying job, marriage, and children.
While the story's main theme, the plight of the homeless, might seem to be an old social problem, the particular aspects of homelessness that McMahan explores—the rising ranks of homeless youth and mental illness as a contributing factor—make this an all-too-timely story. McMahan is careful not to portray the characters as merely objects of pity, but rather shows the reader many facets of this complicated human condition—informing us in a way that might result in constructive action, rather than leaving us with a sense of overwhelming helplessness.
Through much of the book, McMahan's economy of words and poignant phrasing make her prose a pleasure to read. When Lorelei and another female character are chased from a McDonald's restroom by the restaurant's manager, Mook, one of the homeless young people that the narrative follows, crows, "Somebody with nothing to lose is the scariest person of all."
The novel's weaker points are the pedantic conversations among minor characters that seem a bit too strategically positioned. For example, when the homeless shelter's manager, David, testifies before a city council meeting, the dialogue seems simplistic and drives home points that the reader has, by this time halfway through the novel, already inferred through the story. Still, McMahan manages to end even that chapter with her characteristic insight. Once David's testimony is over, he reflects: "He had come today with his hand out yet again. He was a beggar, just like those he served."
Bobbi Buchanan is founding editor of the online magazine New Southerner. Her work has appeared in The New York Times, The Louisville Review, and other publications.