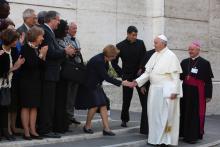 Whether women can, or should, "have it all" —  both work and family — has been one of the most contentious cultural debates of the modern age and one any secular or religious figure engages at his or her peril.
But Pope Francis is nothing if not intrepid, and on Feb. 7 he plunged in by arguing that the Catholic Church should help "guarantee the freedom of choice" for women to take up leading posts in the church and in public life while also maintaining their "irreplaceable role" as mothers at home.
In his remarks to the Vatican's Council for Culture, which has been holding meetings on the role of women in modern life, Francis sought to carve out a "new paradigm" in the gender wars.
He said Western societies have left behind the old model of the "subordination" of women to men, though he said the "negative effects" of that tradition continue.
At the same time, he said, the world has moved beyond a model of "pure and simple parity, applied mechanically, of absolute equivalence" between men and women.