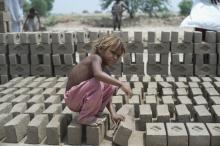 Among Christians who practice Lent, the Holy Week timeline is a time for reflection on the practices of Jesus in his last days prior to his death. Reflecting on Holy Week can be a spiritual practice to consider the place of those practices in our own lives. According to the Gospel of Mark, Jesus followed his triumphal entry into Jerusalem on Palm Sunday by taking time on Monday during that week to publically drive out and speak against temple-based financial exploitation.
The cleansing of the Temple is documented in all four gospels. Three place it during Holy Week. Scholars have written that this event occurred in the area of the Temple known as "Solomon's Porch," which was open to Jewish and Gentile worshippers alike. It was a marketplace for the purchase of items needed for worship — pilgrims attending Passover celebration, unfamiliar with Jerusalem, may have purchased sacrificial animals at a higher price than elsewhere in the city. Poorer individuals, unable to afford a lamb, may have purchased overpriced sacrificial doves. Foreign currency, forbidden inside the Temple, could be exchanged, for a fee, for local currency to pay the annual Temple tax.
It has been argued that the High Priest may have received a percentage of the profit from the money changers and merchants, so their removal from the Temple would have caused a financial loss to those in power. It has been argued that the noisy marketplace atmosphere may have been disruptive to the atmosphere of worship. The text is unclear about the exact nature of the sin. However, it is clear that when Jesus saw the market, he became angry and turned over tables, driving out those exploiting the people and publicly calling them "robbers."
Whatever the exact nature of the financial sin was that was occurring in the Temple at the time, the text in Mark suggests that after this act of clearing the Temple, those in power began to earnestly plot Jesus' arrest and death. Jesus' opposition to the money changers was directly related to his arrest and crucifixion later in the same week.
While I would like to identify with Jesus in this story, I realize I am more often in the position of the watching crowd. Or am I the merchant, lining my own pockets with the misfortune of others and making profits or receiving benefits from practices that exploit?