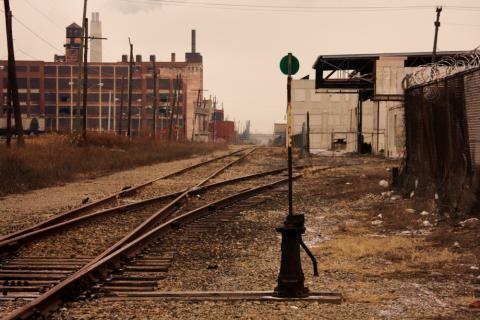 UNTIL RECENTLY, a company in New York City offered "a ride through a real New York City 'ghetto'"—a $45 bus tour of the Bronx, reportedly patronized mainly by European and Australian tourists. One news report described the tour guide sharing lurid stories of crime and arson from the '70s and '80s, making insensitive comments about everything from local architectural landmarks to people waiting in line at a food pantry, and warning about the "pickpockets" in wait in a certain park. After an outcry from residents and officials, angry that the place they call home would be reduced to out-of-touch stereotypes, the tour company shut down in May.
That someone would even think of fleecing misguided tourists this way hints at the complicated, sometimes contradictory, role that cities play in our culture: In our collective imagination they represent both civilization's pinnacle (arts, style, technology, intellectualism, innovation, industry, finance) and depravity's depths (crime, corruption, exploitation, decadence, filth). For much of the 20th century, many people of means fled cities for the pastoral promise of the suburbs, while many a farm girl or boy dreamed of escaping to a city and tasting the bustle and thrill: "Until I saw your city lights, honey I was blind."
And yet cities are not only symbols, but real and intricate places. Whether booming or busting, they shape and are shaped by the people in them. Both the built structures and the people of a city have stories to tell. But a fleeting tour-bus view with distorted narration can lead us down an alley with no exit.
Here are some different takes on the bright lights of the big city.
"RUIN PORN" is a phrase usually credited to James Griffioen, who writes the blog "Sweet Juniper!" from his home in the once-mighty, now-colonized Detroit. The phrase arose from Griffioen's critique of journalists who used shots of Detroit's crumbling infrastructure mainly to illustrate stories on the 2008 financial crisis, while ignoring the long history and timeline behind most of the deterioration. He considered this a detached, exploitive use of the images (parallel to pornography). In Detroit, where "government by the people" has been usurped by an unelected "emergency manager," the accurate preservation of history and grassroots stories are among the few forms of power left for regular citizens.
As some argue, documenting the abandoned public buildings and homes in struggling cities such as Detroit is not an inherently bad thing—or a new one. Richard B. Woodward, writing for ARTnews, notes that "it's hard to think of many historical periods or genres that aren't littered with scenes of decay and havoc. ... to condemn images of blasted lives and places that carry a whiff of 'exploitation or detachment' would be to do away with a sizeable chunk of pictorial and written history." In the internet era, images are often even more untethered from explanatory framing. But, Woodward asks, "Is no news better than bad news?"
Woodward cites photographer and sociologist Camilo José Vergara as an example of photography immersed in context and the long view. Vergara specializes in urban photography in poor and racially segregated areas; he revisits cities and specific buildings over many years, supplementing his photos with research and interviews. As Vergara writes on his website (camilojosevergara.com), "I have photographed urban America systematically. ... Along the way I became a historically conscious documentarian, an archivist of decline, a photographer of walls, buildings, and city blocks."
The website Rustwire.com provides excellent, balanced coverage of post-industrial Rust Belt cities, including wrestling with the ambiguities of ruin porn. Writer and Cleveland resident Richey Piiparinen has several essays on Rust Wire that argue there's positive potential in images of battered cities and stories of how they got that way, a counternarrative to the myth of infinite growth. Piiparinen writes, "being broken is the key to transformation. Which means the future of America is about reimagining the geographies of its past."
Transformation is a theme of Philadelphia's Mural Arts Program. Catholic theologian Maureen H. O'Connell explores the power of the creative process, placement, and imagery of these artworks in the book If These Walls Could Talk: Community Muralism and the Beauty of Justice (Liturgical Press).
These murals are not just pretty facades (although O'Connell makes clear in the section "Beauty: Arts and the Body Politics" that beauty, intentionally deployed, is a force to be reckoned with). As Mural Arts Program director Jane Golden writes in the book's foreword, the murals are the end result of a highly engaged community process: "Stakeholder groups have grown from clusters of neighbors to entire city departments, transit systems, and citywide dialogues. ... the Mural Arts organization has expanded its reach into correctional facilities, social service agencies, and Philadelphia public school campuses."
O'Connell digs deep into how racism, poverty, and violence are dehumanizing forces that distort our cities and society as a whole. The mural process, with its sharing of stories and creation of beauty that respects—rather than denies—suffering, helps seed hope and spur social change. She writes, "the common beauty that the murals create reminds us that the common good is not something that we think about but rather something that we actually draft, dream, construct, craft, and hone in collaboration with one another."
Presbyterian pastor and author Eric O. Jacobsen also thinks theologically about towns, cities, and human community. He focuses on the "built environment"—not just buildings, but the spaces in between, encompassing all human-made surroundings, from parks and sidewalks to the public utilities buried beneath them. The built environment is the setting for our daily lives and interactions.
It "is also a place where the story of our salvation is played out," and thus worthy of informed, faithful engagement, as Jacobsen asserts in his recent book, The Space Between: A Christian Engagement with the Built Environment (Baker Academic). He notes that this can be counterintuitive for many Christians. Because in Genesis everything is "very good" in the original garden—but goes downhill from there—we often assume that "the natural environment is a more godly environment and the built environment is stained by sin." But, he says, we need to look at the end of the story, the Book of Revelation, in which John "is given an evocative picture of our lives when our relationship with God is fully restored. And that picture is not of a garden or a wilderness, but of a city."
We, of course, live somewhere between that first garden and the eternal city. But Jacobsen skillfully articulates how the call to seek shalom—justice, right relationship with God and others, human flourishing—in this in-between place and time requires a deeper understanding of the built environment, and he provides tools toward that understanding.
Jacobsen is a proponent of New Urbanism, a planning approach that encourages mixed-use, walkable, diverse (age, race, income level), aesthetically pleasing neighborhoods. By linking the New Urbanism approach with theological and biblical principles, The Space Between encourages new ways of thinking about everything from our own housing to civic engagement to church missions and ministries.
How will you seek the welfare of your city?

Julie Polter is an associate editor of Sojourners.
Image: Railroad tracks in Detroit, Judy Marie Stepanian / Shutterstock.com