Episcopal Church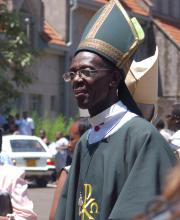 Restoring the Bible to the heart of the Anglican Communion should be the goal of a meeting called this week by Archbishop of Canterbury Justin Welby on how Anglicans should move forward, said the head of the Global Anglican Future Conference.
Welby's meeting of Anglican leaders is planned for mid-January 2016 in Canterbury, England. It is being viewed as an attempt to heal the 80 million-member communion, which remains deeply wounded by disputes over homosexuality and women's ordination in the global church.
GAFCON's chairman, Archbishop Eliud Wabukala, the primate of Kenya, said the meeting was a recognition of the deep concerns of the faithful Anglican Church leaders in the world. GAFCON, started in 2008 in Jerusalem, says its aim is to restore the integrity of the Anglican faith and order.
In an interview that aired last week, Stephen Colbert — possibly the only Catholic whose popularity rivals Pope Francis himself — admitted that one of the times the Eucharist felt "most real" to him was when he attended an Anglican service and heard a woman consecrate the bread.
"The freshness of hearing a woman say that gave the message a universality that it always should have," said Colbert.
Today, if you walk through the red doors of an Episcopal church on Sunday morning, the person presiding over the Eucharist might be female, gay, lesbian, bisexual, or transgender. But on Sept. 12, some of the first women ordained as Episcopal priests reminded the church: it hasn't always been that way.
Forty years ago last week — before women were allowed to be priests — four women were "irregularly" ordained as Episcopal priests before the altar of St. Stephen and the Incarnation in Washington, D.C. Closely linked with the "irregular" ordination of eleven women in Philadelphia (the "Philadelphia Eleven") the previous year, the ordination of the Washington Four — Lee McGee Street, Alison Palmer, Betty Powell, and Diane Tickell — is seen by many as a key step in securing women's ordination in the Episcopal Church.
By an overwhelming majority in both of its legislative houses, the Episcopal Church made history July 1 by making marriage for same-sex couples available throughout the church.
The actions on marriage equality came after decades of progress toward fully including LGBT Episcopalians in the work and witness of the church.
When did you last think about the relationship between your community's worship practices and their missions? It's such a loaded conversation. What makes for "mission?" Why do we set the two practices — what we do in worship and what we do after — at odds with one another? Is it simple geography? One happens behind the ecclesial closed doors while the other is more public? I want to know when we lost the sense that our liturgies were public events rather than secret rites. But that's another post.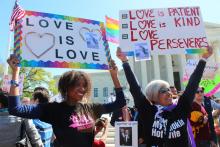 People who argue against marriage equality frequently do so for religious reasons, even if they cast their argument in secular terms. While I believe there are strong constitutional arguments for striking down bans on marriage equality, I support striking down these bans because of my faith, not in spite of it.
For too long, religious institutions have contributed to the scourge of homophobia that fuels the discrimination that this case seeks to strike down. Far too many of us are familiar with the discrimination, fear, and violence that gay and lesbian people have suffered while people of faith turned a blind eye or, worse yet, acted as perpetrators.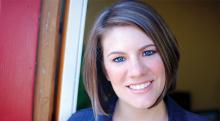 Rachel Held Evans has grown into a powerful voice in American Christianity, first as the author of Evolving in Monkey Town and later with the New York Times best-seller A Year of Biblical Womanhood. Those who follow her writings often note that her thinking has become increasingly progressive, especially on hot-button theological issues such as gender and sexuality. That shift culminated in her leaving evangelicalism for the Episcopal Church.
Next month, Evans will release Searching for Sunday: Loving, Leaving and Finding the Church, a book that oscillates between stinging critiques of American Christianity and prescriptions for how she believes believers can more faithfully participate in church life. In an interview with Religion News Service, she talked about the key to revitalizing the church and defended her exit from evangelicalism. Some answers have been edited for length and clarity.
Q: You say that the way to stop the exodus of millennials from churches isn't cosmetic changes like better music, sleeker logos, and more relevant programming. Why are these methods ineffective?
A: These aren't inherently bad strategies, and some churches would be wise to employ them. But many church leaders make the mistake of thinking millennials are shallow consumers who are leaving church because they aren't being entertained. I think our reasons for leaving church are more complicated, more related to social changes and deep questions of faith than worship style or image.
If you try to woo us back with skinny jeans and coffee shops, it may actually backfire. Millennials have finely tuned B.S. meters that can detect when someone's just trying to sell us something. We're not looking for a hipper Christianity. We're looking for a truer Christianity.
Q: If these aren't the answer, what is?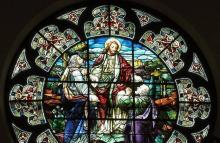 For the second time in as many months, a state court has sided with a group of breakaway Episcopalians, ruling that they can keep their property after leaving the national church in 2008 over sharp differences on homosexuality and the authority of Scripture.
Judge John P. Chupp of the 141st District Court in Tarrant County, Texas, ruled March 2 that more than 60 parishes in greater Fort Worth can retain their property and remain independent of the Episcopal Church.
"We are grateful for the ruling in our favor,"said Bishop Jack Iker, the former Episcopal bishop of Fort Worth who's now affiliated with the Anglican Church in North America, which formed in 2009 as a rival to the Episcopal Church. "It's clear that both church laws and Texas laws have been rightly applied to this dispute."
While still a part of the Episcopal Church, Iker was a leader of the church's small conservative wing that opposed the 2003 consecration of an openly gay bishop and blessings for same-sex unions. He's also criticized the theology of Presiding Bishop Katharine Jefferts Schori as unorthodox, and he refers women seeking ordination to a neighboring diocese.
Theologian Stanley Hauerwas has declined a series of lectures he was scheduled to give at New York's General Theological Seminary in November in the wake of the crisis roiling the school.
On Oct. 8, the Christian ethicist said he does not want to get in the middle of a controversy involving the resignations or firings of eight faculty.
Two weeks ago, the eight faculty members quit teaching classes and attending official seminary meetings or chapel services until they could sit down with the Board of Trustees.
Hauerwas, who is professor emeritus of divinity and law at Duke Divinity School, said he pulled out of the lecture series so he would not appear to take a side.
"I was looking forward to going because I've known of General for my whole academic life, but I had never been there. At one time, it represented a commitment to an Anglo-Catholic tradition with which I'm very sympathetic," said Hauerwas, who attends an Episcopal church in Chapel Hill, N.C. "I think the situation is one of deep pathos; it's just pathetic. I'm sorry that I've gotten caught in it."
General Theological Seminary's campus in the Chelsea neighborhood of Manhattan is everything you'd want in an urban seminary.
Handsome buildings, a chapel at the center, quiet walkways in a noisy city, calm places to read and pray. All serving a wonderfully diverse student body eager to minister in a changing world.
It's like the best of historic church properties: harking back to a day of noble architecture and tradition and yet looking outward to a frenetic city and changing religious environment.
Why, then, is GTS on the verge of financial collapse and, now, paralyzing internal conflict? Its dean is under attack, 80 percent of its full-time faculty were dismissed, its board is floundering — all in the glare of press and blogosphere.
Why? For the same reason that historic churches and denominations are trapped in "train wrecks." Their time has passed.
Pages