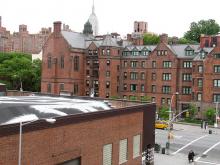 Several faculty members at the Episcopal Church's oldest seminary are battling with the school's leadership, although neither side agrees whether they quit, were fired or staged a walkout.
General Theological Seminary in Manhattan is the only seminary overseen by the national church. Last week, eight faculty decided to stop teaching classes, attending official seminary meetings or attending chapel services until they could sit down with the Board of Trustees.
The dean and president, Kurt Dunkle, wrote a letter to students saying the Board of Trustees' accepted the eight faculty members' resignations. But faculty member Andrew Irving wrote to students saying the professors never suggested they would resign.
"We wish to underline that we have not resigned," Irving wrote, suggesting the group sought legal counsel. "Our letters did not say that we would resign. We requested meetings with the Board."
The Rev. Ellen Tillotson, an Episcopal priest in Connecticut and a GTS board member, wrote that it has become clear that the eight faculty have been planning a walkout.