'I Refuse To Let Hatred Destroy My Faith'
On facing a pandemic of anti-Asian violence.
Rt. Rev. Allen K. Shin is the bishop suffragan for the Episcopal Diocese of New York. This excerpt is from a speech Shin delivered in New York City on March 23 following the killing of eight people, six of them women of Asian ancestry, in Atlanta.

"WHEN THE PANDEMIC began, it didn't take long for the anti-Asian violence to begin. The violence of calling the virus 'China virus' and 'kung flu' by the highest political office holder of this nation only helped stoke the fire and put fuel on the hatred against Asians.

I have been called racist epithets many times before. I have been told to go back home many times before. But never have I felt fearful for my life as I have during this pandemic of hatred and violence against Asians. While the overall crime rate has declined from 2019 to 2020, hate crimes against Asians have increased nearly 150 percent in [16] major U.S. cities—and 68 percent of the victims have been Asian women.

This has to stop.

Asians are not viruses or scapegoats of anger and rage. Asians are janitors, restaurant workers, grocery workers, taxi drivers, the police, military members, teachers, nurses, doctors, lawyers, congressional representatives, and yes, even ordained ministers in the church. We are not expendable strangers of this land.

Jesus did not say, 'hate and kill those who do not look like you.' Jesus did not say, 'hate and kill those who disagree with you.' Jesus said, 'love your neighbors as yourselves.' So, I ask you to stand in solidarity with your Asian brothers and sisters in your communities.

Despite the fear and anxiety, the one thing I've learned during this pandemic is the value of life, and not to take it for granted. I refuse to let fear take over my life. I refuse to let hatred destroy my faith in the goodness of humanity."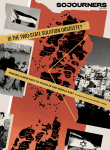 This appears in the July 2021 issue of Sojourners
Got something to say about what you're reading? We value your feedback!