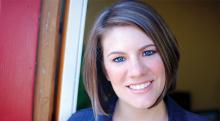 Rachel Held Evans has grown into a powerful voice in American Christianity, first as the author of Evolving in Monkey Town and later with the New York Times best-seller A Year of Biblical Womanhood. Those who follow her writings often note that her thinking has become increasingly progressive, especially on hot-button theological issues such as gender and sexuality. That shift culminated in her leaving evangelicalism for the Episcopal Church.
Next month, Evans will release Searching for Sunday: Loving, Leaving and Finding the Church, a book that oscillates between stinging critiques of American Christianity and prescriptions for how she believes believers can more faithfully participate in church life. In an interview with Religion News Service, she talked about the key to revitalizing the church and defended her exit from evangelicalism. Some answers have been edited for length and clarity.
Q: You say that the way to stop the exodus of millennials from churches isn't cosmetic changes like better music, sleeker logos, and more relevant programming. Why are these methods ineffective?
A: These aren't inherently bad strategies, and some churches would be wise to employ them. But many church leaders make the mistake of thinking millennials are shallow consumers who are leaving church because they aren't being entertained. I think our reasons for leaving church are more complicated, more related to social changes and deep questions of faith than worship style or image.
If you try to woo us back with skinny jeans and coffee shops, it may actually backfire. Millennials have finely tuned B.S. meters that can detect when someone's just trying to sell us something. We're not looking for a hipper Christianity. We're looking for a truer Christianity.
Q: If these aren't the answer, what is?