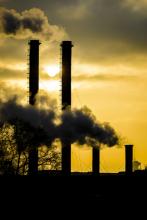 And as I worshiped I realized creation wasn't singing with me. I had entered into creation's ongoing worship of God!
But Scripture speaks of another utterance of nature — a groaning. (Romans 8:19-22) Even as creation worships, it bears the weight of our sin. Our addiction to consumption, our oil drills and oil spills, and our depleted uranium bullets whizzing through theaters of war in countries ravaged, torn apart — both the people and the land. Creation is groaning, even as the trees lift their branches heavenward in worship.
The Genesis 2 story of creation offers a profound picture of humanity's relationship with the rest of creation in the beginning. In Genesis 2:15 God called humanity to till and keep the Garden of Eden. The Hebrew word for "till" ('abad) is also translated "to serve" (as a bond servant). The Hebrew word for "keep" (shamar) is most accurately translated "to protect." Thus, we were called to serve and protect the rest of creation. In the very beginning of our existence, we related to the land as its servants — its protectors. That relationship was full of care, nurture, security, and selfless service.