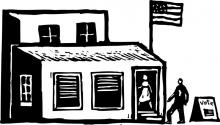 I'll never forget the time I was handed a Voting Guide when I walked into church on Sunday morning.
It was 2008 and I was a 23-year-old single woman, attending a large Southern Baptist congregation in Florida for the very first time.
The high school football coach I'd just written a profile on for the front page of the sports section had recommended I attend his church. He was, I'd ascertained, a good man and a genuine Christian. Plus, he and all the other football coaches from the area attended church here. There was the potential of additional scoops, plus an opportunity to make friends - or more - with some of the younger assistant coaches.
It was an impressive campus, all palm trees and white arches. We sang some familiar music, and to be honest, I don't even remember the sermon.
I remember the seemingly harmless Voters Guide. It was 2008. On the second page, listed in alphabetical order, was the man who would become our nation's first black president.
BARRACK OBAMA
It could've been a simple typo, an auto-correct. But as we were all told to bow our heads and pray for awhile to end abortion, I figured out this little Voters Guide might have a slight political agenda. And perhaps that little agenda might have contributed to them not bothering to spell the Democratic candidate's name correctly.
Much as I would have loved going to the church of the football coaches, I couldn't go back after that.