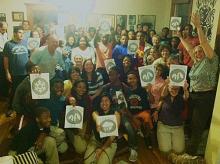 Sacred the land,
Sacred the water,
Sacred the sky,
Holy and true,
Sacred all life,
Sacred each other,
All reflect God who is good.
– Franciscan Brother Rufino Zaragoza, OFM

Last Friday night was the first time I uttered this refrain. As I sang, I felt a sense of gratitude to know the significance of these words and to feel the conviction of knowing that I have a responsibility in protecting that which is sacred.