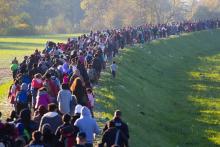 Faith-based agencies that resettle refugees in America stand to gain more than a clear conscience if the United States — after what is expected to be a fierce debate in Congress — accepts a proposed 10,000 Syrian refugees next year.
More refugees also means more revenue for the agencies' little-known debt collection operations, which bring in upwards of $5 million a year in commissions as resettled refugees repay loans for their travel costs. All nine resettlement agencies charge the same going rate as private-sector debt collectors: 25 percent of all they recoup for the government.
This debt collection practice is coming under increased scrutiny as agencies occupy a growing stage in the public square, where they argue America has a moral obligation to resettle thousands of at-risk Syrian refugees. Some observers say the call to moral action rings hollow when these agencies stand to benefit financially.