THE HOLY SPIRIT has a starring role leading up to Pentecost, not only on the day itself. Jesus prepares the apostles to receive "another Advocate." Other readings jump forward to what occurs when disciples are filled with the Holy Spirit. This could be an unusual level of holiness meant for a few, but it sounds like a holiness to which we can all aspire. Stephen and the apostles were granted heavenly visions or the ability to speak new languages. The challenge for believers today is to recognize when the Spirit of truth "comes upon" us.
A clue might be found in how Jesus describes the approach of the Holy Spirit to the disciples (Acts 1:8): This verb (eperchomai) conveys the sense of moving from a transcendent position toward one who is less powerful. The writer of Luke-Acts also uses the verb in this way when Gabriel answers Mary's question about how it could be that she will bear the Messiah.
Mary, the apostles, Stephen, and others weren't powerful to begin with. It is the Spirit who empowered them, who made risky discipleship possible. And the "signs and wonders" (Acts 5:12) that flow from being full of the Spirit aren't always spectacular. We could be filled with the Spirit when we turn a vacant lot into a community garden. Or when we register new voters. Or furnish a home for a family seeking asylum. We don't need a certain level of education, status, or holiness to live into Jesus' promise that his followers can receive power to do great works (John 14:12).
May 3
Churches 'Heal' Debt
Acts 2:42-47; Psalm 23; 1 Peter 2:19-25; John 10:1-10
AMID "SIGNS AND wonders" by the apostles, Acts 2 describes how early Jesus followers provided for each other by selling off possessions and goods, praying together, sharing meals, and holding property in common. That may seem an impossible ideal.
But sharing resources beyond our individual household can be creative while supporting communal stability and security. The early Christians intertwined worship with economic relationships and forged bonds of community. Congregations can do this in diverse ways.
Several Chicago-area congregations have helped to raise money for canceling medical debt through a nonprofit organization called RIP Medical Debt. RIP uses the same method as debt collectors—it buys debt in bulk from brokers at a deep discount—except RIP then collects donations to clear the debt. Individual contributions as small as 50 cents or a dollar from people in the pews together wiped out thousands of dollars of medical debt, freeing a family. Members of the participating congregations rejoiced in worship that they could relieve financial stress, even while many of them also had such debt.
Read the Full Article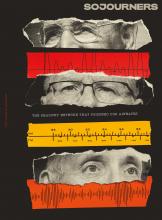 ​You've reached the end of our free magazine preview. For full digital access to Sojourners articles for as little as $3.95, please subscribe now. Your subscription allows us to pay authors fairly for their terrific work!
Already a subscriber?
Login