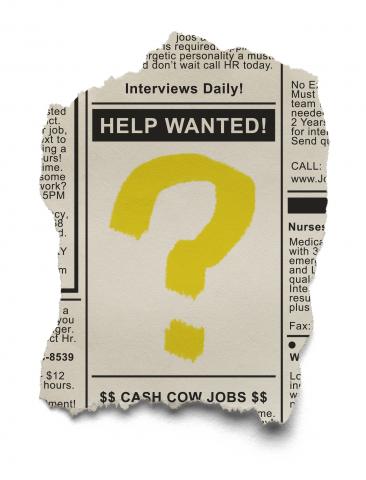 RECENT YEARS HAVE witnessed a deluge of headlines such as "Jobs Become More Elusive for Recent College Grads" from Reuters and "For Recent College Grads, Recessions Equal Underemployment" from Inside Higher Ed—headlines that make even the most hearty college students experience heart palpitations. According to a 2014 analysis by the Federal Reserve Bank of New York, "the underemployment rate for 22-year-olds is about 56 percent, indicating that more than half of the people just graduating end up working in jobs that do not require a degree," jobs for which they are overqualified.
To put this into perspective: I am a 22-year-old senior at a private Christian university. Of my close friends who graduated in the last year or two, the only ones who were able to find jobs in their fields were education and nursing majors.
Don't get me wrong, I love liberal arts and feel grateful for the critical thinking skills, study-abroad opportunities, and philosophical discussions that attending a liberal arts school has afforded me. But learning in the same analysis that "only 40-to-45 percent of recent college graduates majoring in communications, liberal arts, business, and social sciences were working in jobs that required a degree" is troubling at best.
 In addition, seven out of 10 college seniors are graduating with an average of $29,400 in debt due to rising tuition costs for an undergraduate education. The National Center for Labor Statistics found that in the past decade, the cost of "tuition, room, and board at public institutions rose 42 percent after adjustment for inflation." The situation was a bit (though not much) better at colleges in the private not-for-profit group, like my own, where the average price rise was 31 percent.
For recent college graduates who find themselves working as nannies, bartenders, baristas, waiters, and retail clerks, this means facing the daunting task of paying off extensive amounts of debt on low wages for a college education that was supposed to prevent them from working low-wage jobs to begin with.
In this world where at least an undergraduate education is needed to get an entry-level job, and where the costs of obtaining a college-level education are increasing exponentially, Americans need financial assistance programs supported by the federal government. Yet in the budget wars, Pell grants are being frozen or cut. Loan forgiveness programs only extend to those in public service and teaching sectors. The 2015 fiscal year budget plan unveiled by House Republicans proposed steep cuts to social services, including grants, student loans, and research funding. All of this points to greater debt levels on the shoulders of college graduates, when they are already groaning under the weight of debt. A federal act to forgive student loans, as was done with some mortgages, would be the equivalent of granting us a Jubilee Year for our hard work and devotion to improving ourselves and the world we live in.
Beyond debt, we have other pressing questions: "How do recent college grads who are not health-care or education majors find jobs?" "How can we use our liberal arts education to make a difference in the world?"
There are no clear-cut answers. However, recent college grads are in a unique position to serve. Most of us are unmarried with no children. We have no mortgages, and our loans are usually deferrable (though interest may be added, unfortunately) if we enter voluntary service. Perhaps for us the shockingly tough job market can be an opportunity to serve Christ, not a misfortune. 
Kara Lofton is a student at Eastern Mennonite University in Harrisonburg, Va.
Image: Help wanted job search with a question mark, Mega Pixel / Shutterstock.com