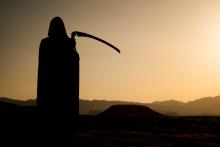 I've been writing this week about inspired vision and embracing radical change even in the face of the death of present systems. But the experience is different when applying the same principles to our own lives. The following is taken from my upcoming memoir, PregMANcy, due out in a few weeks. The setting is about four years ago, when my son, Mattias, decided his latest obsession would be death.
______________________________________________
I've noticed that Mattias has been more fearful in general lately, which concerns me. Part of it, I think, has to do simply with the fact that he's smart enough to think through possible scenarios. As I've observed with him a number of times before in the last two years, he's able to process a whole lot more intellectually than he can process emotionally. Eventually, his emotional wisdom should have plenty of opportunity to catch up, but for a four-year-old, any gap in development is more pronounced.
Two years ago, when he was only a year and a half old, Mattias was jumping from the side of the pool into my arms and going underwater. Last summer, he and his cousin spent most of every waking hour in their grandmothers' pool, diving to the bottom for toys and to do tricks. Now, with floaties on both arms, a mask and a snorkel, it's all I can to do get him off of the top step in the shallow end.
What the hell happened?