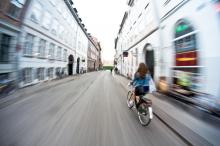 "What? What happened?" My co-worker asked, sensing the solemn look on my face.
"Another patient died," I reported. Grief and thick silence hang in the air as I thought back to the last time I saw this person, hospitalized, unable to speak, but for a brief moment our hands met in an embrace, and although he couldn't speak, his demeanor and soft touch of the hand said it all.
I brought myself back to the present moment. It was the end of the work day and I strapped on my helmet to bike home, a Lenten commitment I've found to be incredibly rejuvenating.
I pedal past the housing projects and turn the corner around the city jail. Activists holding bright colored placards protest peacefully against the death penalty. I smile at them. "Keep up the good work!" I enthuse, giving them a thumbs up from my navy blue mitten and pedal on my way.
A second later, it hits me. Tears rush to my eyes but refuse to come out. The taut muscles in my throat contract; that familiar lump in which no words can come out, just expressions of the heart. Yes, it hit me.The juxtaposition and irony of it all. Life and death. One man died today from four letters that no one should ever have to die from, but globally, some 1.8 million do every year. Another man protested for the life of another to not be cut short before the redemption and healing and forgiveness began.