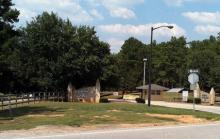 After an unusual six-week lapse in executions in the nation since a botched effort in Oklahoma on April 29, two men could face lethal-injection deaths in Georgia and Missouri Tuesday night or early Wednesday.
Should the execution of Marcus Wellons go forward at 7 p.m. ET Tuesday in Georgia, it would be that state's first lethal injection using a drug not federally approved. That's the result of a scramble by Georgia and other states in recent months to obtain drugs necessary for executions.
Wellons, 59, was sentenced to death for the 1989 rape and murder of 15-year-old India Roberts, whom he abducted as she was on her way to a school bus.
At 12:01 a.m. Wednesday, Missouri is preparing to execute John Winfield, who blinded the mother of his two children and killed two other women in a 1996 shooting spree. A judge on Thursday issued a stay of execution, but prosecutors are seeking to have it lifted in time for Winfield's execution to proceed.
A third inmate, in Florida, is slated to be put to death Wednesday evening.