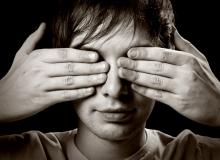 I am more and more convinced that beauty lies in the margins.
Raised in evangelicalism, we often prayed to reach those who remain in the darkness, that God would open their eyes and see the truth. We had been born again. A veil had been magically lifted off our eyes, welcoming us into the land of all that is bright and right. Like the blind man in the Gospel of John, we proclaim, "I was blind, but now I see." Those who believe now possess some sort of special knowledge inaccessible to others, and we are tasked to go and lift the blinders off as many as possible.
It sounds a bit arrogant, which has been a common accusation against evangelical Christians. But every conversion experience is a form of turning from darkness to light. An a-ha moment, a lived miracle, a season of wrestling with doubt and crisis that somehow brought the person to a divine encounter with God. These stories ought to be honored and not dismissed. Something has changed, and it is worth celebrating a liberation into hope. I marvel at genuine, earnest faith.
The problem is when we have become blinded by our light.