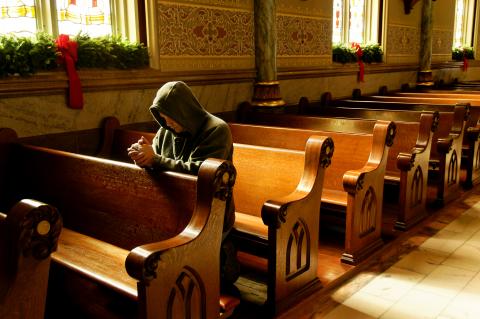 A QUESTION ASKED of me 100 times in the last 10 years: Why do you stay in the Catholic Church? How can you stay in a church where thousands of children were raped around the world? Where men in power covered their ears to the screams of children and moved the rapists around from parish to parish so that smiling welcoming parents presented their awed shy children to the rapists like fresh meat? Where women have been marginalized and sidelined for centuries and their incredible creativity diluted and wasted and left to rot? Where power and greed and cowardice so often trumped the very humility and mercy and defiant belief in the primacy of love on which the church was founded and for which it claims to stand today?
Because, I said haltingly, in the beginning, when I was unsure of my honest answer in the face of such rapacious crime and breathtaking lies, because, because ... because how could I quit now? What sort of rat leaves the ship when it is foundering and your fellow passengers need help? Why would I quit now, of all the times to quit? How could I leave the ship in the hands of the men who nearly sank her? How could I abandon the brave honest mothers and priests and nuns and teachers and bishops and dads and monks and children who are the church, who compose the church, who sing the deepest holiest song of the real church?
Because, I said more and more energetically as the years went by, because there are men like my archbishop in my church, men who stood up to lies and crime and accepted the lash of public insult without a word, though the sins were not theirs.
Because there are people like my mom and dad in my church, who refuse to let the sweet wild idea of the church die in their souls or their lives or their parish, and refuse to let someone else define the church they know to be a continual verb, and endless possibility, the most revolutionary idea in the history of human beings, not merely a noun, a castle, a council of cassocks.
Because there are men like my pastor in my church, who poked his head into 10,000 hospital rooms and asked if he could help, who blessed 100 children as they arrived in this world, who blessed 1,000 souls as they stared at him starving for hope in their last moments on earth; and he closed their eyes, after they were dead, and bowed his head, and prayed to the Lord that he was right to say they would feel his love soon like a home.
Because there are women like Dorothy Day and Mother Teresa and Annie Dillard in my church, tough flinty brilliant women who know that you pray by what you do, not by what you say or shout.
Because there are men like Joseph Bernardin in my church, who insisted gently and persistently all his life that life was holy, period, and that the lives of unborn children are the same weight of holiness as the lives of born children and young soldiers and grizzled prisoners, none of whom can be murdered without sinning against the first law of the One who breathed all things into being and to Whom all things return when their days are done.
Because there are millions of quiet gracious miracles and saints in my church who conduct their lives as agents of love and hope and mercy against all sense and reason, which is the point of the Catholic church, and always was, and God willing always will be, if we stand together and hold hands and stop fussing about power and real estate and edicts and remember that our charge from the thin astonishing rabbi was to be arrows of love and hope and mercy against the epic tide of rage and despair and cruelty.
Why do I stay? How the hell could I go? To quit now would be logical, understandable, comprehensible, sensible; what reasonable person could stay amid such a shabby mess?
But it's never been about reason and logic and sense. It's about what's unbelievable, ridiculous, incomprehensible. It's about insisting on life against death, light against darkness, hope against despair. It's about faith in what can never be proven or understood or controlled. It's about believing that human beings can grow past violence and greed toward something more amazing than we could ever understand, if we keep faith in each other and in the message we were left by the gaunt rabbi, many years ago.
Why do I stay? Where would I go, that makes so little sense, that is so patently foolish, that could heal the bruised and bloody world, that could make a galaxy so crammed with light that it makes even its weary Maker smile, after all his work, that his children finally rose to their best selves, and sent their sins wailing and gnashing into the limitless dark?
Brian Doyle is the editor of Portland Magazine at the University of Portland (Oregon) and the author most recently of The Thorny Grace of It, a collection of spiritual essays.
Image: man praying in church, Waddell Images / Shutterstock