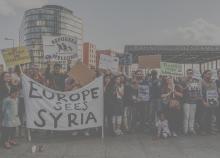 Christian groups are strongly condemning the anti-refugee rhetoric coming from top GOP leadership this week, reports POLITICO.
In the wake of the Paris attacks, many in the U.S. media speculated that one or more of the attackers had entered France as refugees from Syria, prompting state senators, governors, and even U.S. presidential candidates for the GOP to vow to close U.S. borders to Syrian refugees altogether.
These statements are being decried by Christians nationwide, including those with more historically conservative positions on immigration and foreign policy.