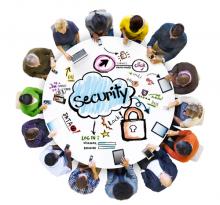 Yesterday morning at 5:30 I woke up to a disconcerting email:

Suspicious Sign-In Prevented. Please check your Google activity immediately.

In my half-asleep bleariness, I clicked the link and filled in my password.

Then I realized I'd been scammed.

"Recognize" was spelt "recognise" — and the account email was from Googlemail.com, not Google.com. Otherwise, the email was identical to those I'd gotten from Google in the past.

The next two hours were spent frantically re-securing my life. Changing passwords, adding two-step verification, application passwords.

I suddenly realized how much of my life was online. My Facebook page was a chronicle of my wedding, my jobs, my son's first 2 years of life.

Most people my age are the same way. Sometimes it's easier online.

The first people to find out about my pregnancy three years ago, besides my husband, were members of an online birth month group at WhattoExpect.com. Weeks before we told family or close friends, we shared intimate details about morning sickness, headaches, and faint lines on pregnancy tests.

Why do we do this? Somewhere, all of us, in Fantasy Football groups and pregnancy groups and dog lover groups and gluten-free groups: we're longing for Real Community.