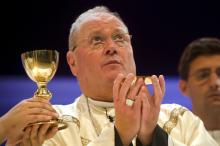 Cardinal Timothy Dolan, archbishop of New York, president of the U.S. Conference of Catholic Bishops, and the most famous funny man in the American hierarchy, went on The Colbert Report Tuesday night to trade quips with another funny guy — and another well-known Catholic — host Stephen Colbert.
Indeed, as Colbert — inhabiting his onscreen persona as a blowhard rightwing pundit — said in welcoming Dolan: "You're the second most famous Catholic in America – after myself."
But it was actually Dolan who got the first gag, and giggles, as he walked onto the set and ostentatiously bowed and kissed Colbert's hand as if he were greeting the pope.
"I've got to get a nice big ring if you're going to be kissing my hand!" replied Colbert, who seemed — uncharacteristically —  unsure of how to play the exchange.
In fact, while Colbert was in full faux bloviating mode, he seemed to let Dolan set the pace of their chat; Colbert didn't poke too hard on topics that could have prompted controversy.
Part of the relative deference may stem from the fact that Colbert is a serious Catholic who has taught Sunday school at his New Jersey parish. Or perhaps it was because Colbert knows Dolan personally, having appeared — out of character — at a forum on faith and humor last year at Fordham University. Or maybe Colbert was a bit out of practice: This was his first show after a two-week summer break, part of which he spent in Rome.