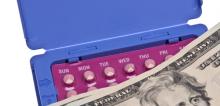 WASHINGTON — Just days after the Obama administration issued final rules to religious groups for its contraception mandate, a broad coalition spearheaded by Catholic and Southern Baptist leaders is pushing back, saying the rules threaten religious liberty for people of all faiths.
In an open letter titled "Standing Together for Religious Freedom," the group says the final rules from the U.S. Department of Health and Human Services violate their freedom of conscience.
"We simply ask the government not to set itself up as lord of our consciences,'' said Russell Moore, president of the Southern Baptist Convention's Ethics & Religious Liberty Commission. He was joined by Archbishop William E. Lori of Baltimore at a news conference at the National Press Club.
"HHS is forcing Citizen A, against his or her moral convictions, to purchase a product for Citizen B," reads the open letter signed by dozens of leaders from evangelical, Orthodox, Mormon and Hare Krishna groups. "The HHS policy is coercive and puts the administration in the position of defining — or casting aside — religious doctrine. This should trouble every American."