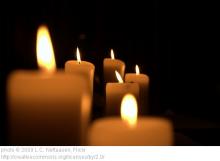 Catholics around the U.S. are coming together for prayer vigils as a show of support for America's nuns, whom the Vatican accuses of having "serious doctrinal problems."
The Wednesday (May 30) vigil at St. Colman Catholic Church in Cleveland follows a Vatican move last month to intervene and reform the Leadership Conference of Women Religious, an umbrella organization that represents the leaders of most U.S. nuns.
Similar rallies have already been held or are planned from Anchorage, Alaska to Boston, organized by the loose-knit Nun Justice Project, a coalition of lay reform groups.
The Vatican scolded the LCWR for making statements that "disagree with or challenge positions taken by the bishops, who are the church's authentic teachers of faith and morals."
The crackdown has caused an uproar among some Catholics, sparking dozens of vigils in cities across the country.