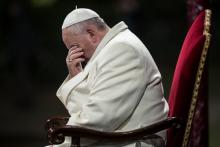 The latest dust-up about the unscripted words of Pope Francis came this week when he tweeted, in Latin, "Inequality is the root of social evil." Conservative Catholics had their underwear in a bundle, nervously tweeting away about the dangers of addressing complex issues on Twitter, and warning about thinking that "redistribution" would solve global inequities. Some feared this was giving Thomas Piketty's new popular book, Capital in the Twenty-First Century, more press. Liberal Catholics were delightfully surprised, once again, and argued that the pope was doing nothing more than putting Catholic social teaching into a tweet.
Inequality is the root of social evil.

— Pope Francis (@Pontifex) April 28, 2014
But this latest interchange, happening of course between Catholics in the global "North," misses the real point.