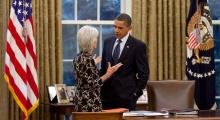 The Obama administration is offering to expand the number of faith-based groups that can be exempt from the controversial contraception mandate, and proposing that third-party companies administer coverage for self-insured faith-based groups at no cost.
At its heart, the newest offering from the White House would allow religious groups -- dioceses, denominations and others -- to decide which affiliated institutions are "religious" and therefore exempt from the new requirement that employers offer free contraception coverage as part of employee insurance plans.
The proposals are an effort by the administration to blunt criticisms of the controversial regulation, especially by the nation's Catholic bishops, who have been at loggerheads with the White House since President Obama announced the contraception mandate in January.