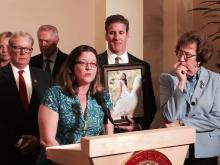 California Gov. Jerry Brown has until midnight Oct. 7 to sign or veto a controversial bill that would legalize physician-assisted dying in the nation's most populous state.
Both supporters of the bill, who say it fosters "death with dignity," and opponents, who call it legalized suicide, urge calls to the governor's office and prayers to the Almighty while they wait out the clock.
And both sides expect this decision is a tough call for Brown.