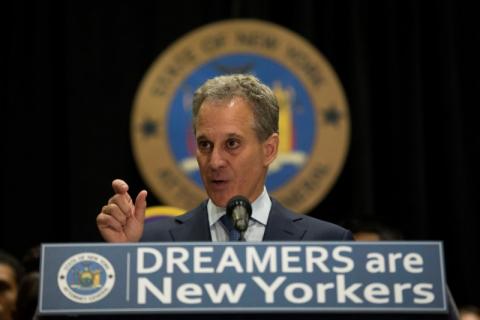 The U.S. Department of Commerce announced that the 2020 decennial census will reinstate a question on citizenship status in a March 26 press release, despite opposition from Census Bureau officials concerned that the question will intentionally discourage immigrants from participating.
Opponents fear the decision could result in a severe undercount that can lead to increased marginalization of immigrants by potentially reducing their representation in Congress and federal funding for local jurisdictions, which is determined by population.
The move was met with immediate opposition by California Attorney General Xavier Becerra, who vowed to sue the Trump administration over the decision.
"Including the question is not just a bad idea — it is illegal," Becerra tweeted.
Here's the lawsuit we filed last night against @realdonaldtrump's #census2020 decision. #California simply has too much to lose for us to allow his Administration to botch this obligation! #citizenship pic.twitter.com/Kp1WWJ3jC8

— Xavier Becerra (@AGBecerra) March 27, 2018
Commerce Secretary Wilbur Ross wrote in a memo that the citizenship data would help the Department of Justice to enforce the Voting Rights Act that protects minority voting rights. According to the Commerce press release, Ross decided that "obtaining complete and accurate information to meet this legitimate government purpose outweighed the limited potential adverse impacts."
Echoing Becerra, New York Attorney General Eric T. Schneiderman announced plans to lead a multistate lawsuit to block the decision in a statement issued March 27.
The statement reads:
A fair and accurate count of all people in America is one of the federal government's most solemn constitutional obligations. The Trump Administration's reckless decision to suddenly abandon nearly 70 years of practice by demanding to know the citizenship status of each resident counted cuts to the heart of this sacred obligation – and will create an environment of fear and distrust in immigrant communities that would make impossible both an accurate Census and the fair distribution of federal tax dollars.

This move directly targets states like New York that have large, thriving immigrant populations – threatening billions of dollars in federal funding for New York as well as fair representation in Congress and the Electoral College.
"Adding this question will result in a bad census — deeply flawed population data that will skew public and private sector decisions to ensure equal representation, allocate government resources and anticipate economic growth opportunities — for the next 10 years," Vanita Gupta, the chief executive of the Leadership Conference on Civil and Human Rights and a deputy attorney general in the Obama administration, said in a statement. "The stakes are too high to allow this. We urge Congress to overturn this error in judgment."
The question on citizenship status has not been asked on the census since 1950.
Reuters reporting contributed to this story.
Send Us a Note
Got something to say about what you're reading? We value your feedback!