SojoAction

: Immigration
Director of Campaigns and Mobilizing
The movement of people is as natural as the flow of water. In harmony with creation and the native people of the land people have the right to migrate whether for survival or flourishing.
Sojourners immigration advocacy centers around honoring the God-given dignity of every person, protecting family unity, and promoting thriving communities.
El movimiento humano es tan natural como el flujo del agua. En harmonía con la creación y los pueblos originarios de una tierra, la gente tiene el derecho a migrar ya sea para sobrevivir o florecer.
Sojourners centra sus esfuerzos de defensoría de inmigración en honrar la dignidad dada por Dios a cada persona, proteger la unidad familiar y crear comunidades prósperas.
Our Work
While a number of churches engaged in sanctuary efforts throughout the 2000s, a new resurgence of the movement emerged around 2016 after deportation priorities shifted. There are now at least 35 public cases of sanctuary. This film documents the stories of Minerva García and Eliseo Jimenez, the congregations that received them, and the many branches of the sanctuary movement.
Tell Congress to stand for immigration policies that honor the God-given dignity of every person, protect family unity, and promote thriving communities.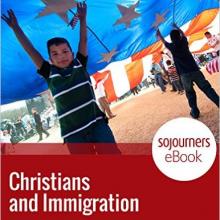 This guide, a collection of current pieces and articles from past decades, is part of a series designed to spark discussion, thought, and action about how to live out God's call for justice for all our neighbors.
Immigration
Latest Stories
As silly as some of Johnson's stunts and statements have been, there is an equally — if not more — troubling side to his temperament.