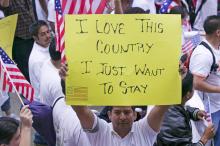 Imagine a young girl growing up in a small town going off to college then law school. She then takes the bar examination and becomes a licensed attorney. She has accomplished what most people would call the American Dream.
However, one thing is missing — her father. You see, her father was deported when she was three years old and they have been separated ever since. She has lived 30 years without him.
Her father came to this country from Nigeria. He saw America as the land of opportunity. Her mother tells her that before coming to America he believed the streets were paved with gold. I'm not sure if his statement was figurative or literal, but I do know that he saw it as a wonderful opportunity.
Her father came to this country as a student on a student visa. He was able to obtain a bachelor's and a master's degree. He worked hard in school and earned both degrees. He longed to begin his career as an architect in America. He desperately wanted his piece of the American Dream.