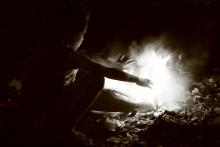 Hope is not a feeling. It is a decision — a choice you make based on what we call faith or moral conscience, whatever most deeply motivates you.
I have said that for many years, but this Advent and Christmas season tests my words — even in my own heart.
This is not a time that many of us are feeling a great deal of hope. I hear that from many friends and allies as well.
In fact, many events this year feel like they have sucked the hope right out of us.
And yet, even in the midst of terrible events and stories, the possibilities of hope still exist depending on what we decide to do for reasons of faith and conscience. In fact, people of faith and conscience are already making a difference in the most difficult situations and places.
And that gives me hope. This season of Advent, in the Christian tradition, is a call to patient waiting.
Christmas is the celebration of God literally coming into the world in order to change it.