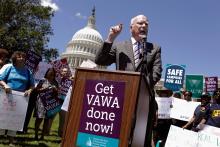 As much as we like to believe we live in a safe country for women, we know this is not the case. Women and girls across the country are subject to rape, abuse, intimidation, and sex trafficking, with the number of victims growing each day. 
Progress has been made over the past decades, thanks in part to the Violence Against Women Act. This policy protects women by providing everything from funding for rape crisis centers to increased collaboration with law enforcement to hold perpetrators accountable. VAWA is our country's promise to women and girls that we will not allow them to be violated and abused. 
The Violence Against Women Act is up for a vote in the Senate next week, and Americans from every corner of the country are calling our policymakers to reauthorize this important legislation. Since it was first passed in 1994, VAWA has received strong bipartisan support and shown its effectiveness in making communities safer, healthier, and better stewards of their resources (in the first 6 years since it was introduced, VAWA saved communities $12.6 billion). 
VAWA expired in 2011, and has yet to be reauthorized.