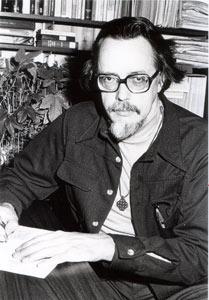 JOHN HOWARD YODER, who died in 1997, was a theological educator, ethicist, historian, and biblical scholar. He is best known for his 1972 masterpiece The Politics of Jesus, his radical Christian pacifism, his influence on theological giants such as Stanley Hauerwas, and his advocacy of Anabaptist perspectives within the Mennonite community and beyond. Many testify that Yoder's exposition of the gospel allowed them to grasp radically good news in the life and teaching of Jesus Christ.
There is a dark cloud over Yoder's legacy, however, that refuses to dissipate. Survivors of Yoder's sexual abuse and other advocates have renewed their calls for the Mennonite Church, including Anabaptist Mennonite Biblical Seminary (AMBS), to revisit unfinished business with his legacy.
On Aug. 19, the executive director of Mennonite Church USA, Ervin Stutzman, announced the formation of "a discernment group to guide a process that we hope will contribute to healing for victims of John Howard Yoder's abuse as well as others deeply hurt by his harmful behavior. We hope this work will lead to church-wide resolve to enter into lament, repentance, and restoration for victims of sexual abuse by other perpetrators as well."
A brief history: Charges against Yoder of sexual abuse were reported as early as the mid-1970s to the president of Goshen Biblical Seminary (now AMBS), where Yoder was a professor and former president. After prolonged and failed attempts to work with Yoder in a biblical, Matthew 18 manner, his employment at AMBS was quietly terminated in 1984 and he moved to full-time work at Notre Dame. At the urging of several survivors of Yoder's abuse, a task force from his local congregation convened in 1991 to deal with "persistent rumors of sexual misconduct." They concluded that Yoder had "violated sexual boundaries." Finally in 1992, Yoder submitted to a disciplinary process led by an accountability and support group of the Indiana-Michigan Conference of the Mennonite Church. Following an intense four-year process, leaders reported its conclusion in the church press. While they recommended continuing an accountability plan, they also encouraged the church to again "use [Yoder's] gifts of writing and teaching." Yoder died suddenly on Dec. 30, 1997, a week after he was welcomed back to his congregation.
Although a measure of healing followed the conclusion of the disciplinary process, so did profound disappointment. Questions persisted about the scope of his sexual abuse, why it took so long for any church leader to publicly denounce Yoder's behavior, and why no one had the moral courage to publicly validate the testimonies of the many abuse survivors in ways that empowered them to find healing. Due in part to the confidentiality of the process insisted on by Yoder, doubts persisted about whether he really confessed his sin and demonstrated remorse. With the recent calls for today's church leaders to deal with the unfinished business, there's also bewilderment about why earlier church leaders dealt with Yoder's sexual sin in such a quiet manner. In this day of widely reported abuse scandals, with perpetrators ranging from Catholic priests to Penn State's Jerry Sandusky, such behavior looks like collusion and cover up.
In summoning a discernment group, current Mennonite Church leaders are committing to a new transparency in truth- telling. This process is intended to discern how the Mennonite Church and its institutions may have failed to deal justly and redemptively with survivors, and to reaffirm practices and policies that assure protection against such abuse in the future.
Yoder's behavior deeply wounded many and casts a dark shadow on his legacy. It is also true that Yoder's exposition of the gospel has proven transformative for many. Providentially, it is because of the gospel that we can fearlessly name sin and more fully acknowledge the far-reaching evil that was perpetrated; we can lament for all who have been betrayed and violated by church leaders they trusted. May the power of the gospel move us to repent of our participation in evil, forgive each other, and live into the joy of reconciliation.
Sara Wenger Shenk is president of Anabaptist Mennonite Biblical Seminary in Elkhart, Ind.