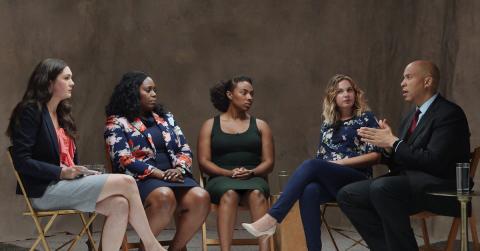 The Marshall Project has partnered with Teen Vogue to listen to women's stories and publish a powerful video and article about incarcerated women.
The United States holds the title for having the highest incarceration rate in the world with 2.3 million incarcerated people. And the most rapidly increasing population imprisoned are women and girls. Though America only comprises 5 percent of the world population, approximately one-third of female prisoners in the world are in the United States — a number that has grown by more than 700 percent since 1980.
To hear these stories, Teen Vogue and The Marshall Project sat down with Ayana Thomas and Sarah Zarba, who were both formerly incarcerated; Kyndia Riley, a student whose parents have been in prison since she was a toddler; and U.S. Sen. Cory Booker, a Democrat from New Jersey who introduced legislation this summer to ease some of the burdens for women in federal prisons.
Incarcerated women and girls are one of the most vulnerable groups — many have children, necessities such as tampons and pads are limited, and have a higher risk to be sexually assaulted, according to The Marshall Project. Watch the videos and read more about parenting from prison, the needs of the incarcerated, and reintegrating into society after prison here.