Black church leaders, anti-racist activists, and Washington, D.C., officials urged Washingtonians to exercise caution as they prepared for right-wing demonstrations on Wednesday as Congress convenes to certify the Electoral College votes in favor of President-elect Joe Biden.
President Donald Trump tweeted his support for the right-wing demonstrators who began flooding the city on Tuesday, tweeting on Tuesday evening he would be joining the "Save America March," Wednesday morning, predicting "BIG CROWDS!"
The Proud Boys, an all-male far-right organization designated as a hate group by the Southern Poverty Law Center, has pledged its members will join in at least four major protests planned for Wednesday throughout downtown Washington. Their leader, Enrique Tarrio, has claimed responsibility for burning Asbury United Methodist Church's Black Lives Matter flag during protests on Dec. 12.
"[The Proud Boys] have positioned themselves in opposition to Black Lives Matter," said Amy Herzfeld-Copple, director of programs and strategic initiatives at Western States Center and an expert on right-wing paramilitary groups and anti-democratic organizations. "They've routinely engaged in political violence against Black Lives Matter activists and glorified violence against racial justice protesters."
In the weeks since the 2020 election, Washington has seen an increased presence of right-wing groups, ardent supporters of President Donald Trump, and self-proclaimed white nationalists seeking to elevate Trump's false claims of voter fraud.
"These right-wing movements tend to seize on major events and societal disruptions to build power and try to mainstream their views and attention," Herzfeld-Copple explained. "We're seeing D.C. become a place where more political violence is playing out than we've seen historically."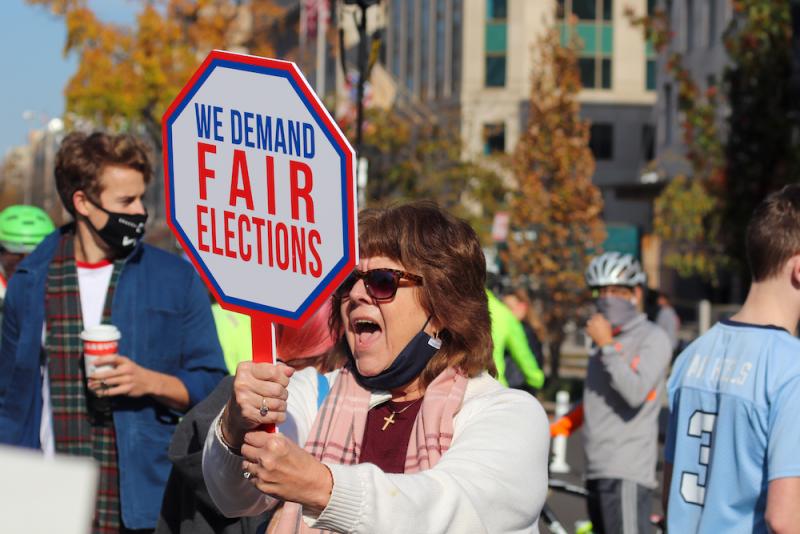 Churches have increased their security and some local hotels temporarily shuttered their doors to those traveling to the capital for the protests.
During Mayor Muriel Bowser's Monday press conference, officials noted they were coordinating with church leaders and congregations throughout the city to ensure their safety after churches were targeted at the previous rallies.
The city's new police chief, Robert Contee, reiterated that District law prohibits the carrying of firearms within 1,000 feet of protests or rallies. He also noted that the D.C. National Guard would assist the police department for the duration of the protests.
On Monday, the Metropolitan African Methodist Episcopal Church filed a lawsuit against the Proud Boys' Tarrio in D.C. Superior Court seeking compensation for destroying the Black Lives Matter banner on the church in order to discourage groups from inciting further violence.
"The destruction of the Black Lives Matter sign is not only a destruction of property, but a message to all Black people and their allies of an intent to sustain the status quo of white supremacy," said Gregg Kelley, spokesman for the Washington Lawyers' Committee for Civil Rights and Urban Affairs, one of the law firms representing Metropolitan AME.
"This suit is of critical importance to all of D.C.," he said via email interview. "The District is not only the nation's capital, but home to more than 600,000 people, 300,000 of whom are Black."
According to the Brookings Institution, incidents of prejudiced violence have increased since Trump's election. At least four churches reported property damage following Dec. 12, incidents that are now under investigation as hate crimes.
Tarrio was arrested Monday night when he arrived in Washington on one misdemeanor count of destruction of property. He was also charged with two felony counts of possession of high-capacity ammunition feeding devices that were found during the arrest, according to police. Tarrio was released Tuesday afternoon, but ordered to stay away from the District until his next court appearance on June 8.
Hours before his arrest, Tarrio, along with other well-known Proud Boys, had posted messages on the social media site Parler mocking the lawsuit.
"Our ancestors were victorious against the white supremacists who sought to instill fear in them and to control them," AME's pastor Rev. William H. Lamar IV said in a statement. "I declare that we will be victorious against these white supremacists because God is with us, Jesus Christ is on our side, and our ancestors surround us. We are on the side of justice and justice will prevail."
Kristen Clarke, executive director of the Lawyers' Committee for Civil Rights Under Law, also representing Metropolitan AME, likened Tarrio's actions to "modern-day cross burnings" on Monday.
Downtown congregations have relayed several demands to the mayor's office ahead of Wednesday's demonstrations, and are pleading with community members and local businesses to stand with them in condemning the danger the right-wing groups may pose.
Some activists, community members, and church leaders have wrestled with whether to stay home rally in opposition to right wing groups. The Bowser administration has urged Washingtonians to stay away from demonstrations, a position echoed by D.C.'s Black Lives Matter chapter, out of concern that Black and brown residents could become targets of violence.
Brittney Henderson-Fiestas, an activist who has been participating in marches for Black liberation and leading anti-racism trainings since May, experienced this violence when she and several friends were attacked by Proud Boys members on Dec. 12.
"Our marches have now become life-threatening situations as attacks from these groups have become increasingly violent," Henderson-Fiestas said. "Because of this the movement for Black lives has had to shift to protecting the city from fascism, destruction, and violence."
Terry Lynch, executive director of the Downtown Cluster of Congregations, said his organization has encouraged the faith community not to directly engage with right-wing demonstrators and has requested that police provide 24-hour surveillance at places of worship. He also has recommended that liquor services be restricted in the District during the rallies.
However, some churches are doing more than asking for police protection. Select congregations have reached out to local activists and racial justice organizations for support. Justin Dawes, co-founder of DC Protests, said he and others were coordinating additional surveillance for Luther Place Church, one of the churches whose Black Lives Matter flag was destroyed on Dec. 12.
"We encourage everyone who chooses to attend counter-protests to adequately prepare for what is likely to be a very dangerous situation in D.C. Wednesday," Dawes said. He and other concerned community members spent Saturday making homemade shields for people who decide to go out Wednesday amid reports that right-wing protesters will be armed.
A group of 12 Senate Republicans and more than 100 House GOP members plan to object during Wednesday's certification, calling for an investigation into Trump's baseless accusations of voter fraud. Their challenge will likely not hold due to Democrats' control of the House, and many GOP senators saying they would abide by the electoral count.
Got something to say about what you're reading? We value your feedback!