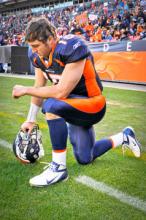 Now that you're joining the Patriots, I'd like to offer you a few pointers on your new regional home. I realize that, to someone from the deep South, this may seem like just another part of Yankeedom, but New England is really a different place than New York. And given what happened in the Big Apple last year, I'm sure that's good news, and the less said about it the better.
Anyway, New England is a great place to get a graduate degree, and you could not find a better institution than the U. of Foxboro to do advanced work in the liberal art of playing quarterback, under the tutelage of Prof. Brady. A dissertation on passing might be a good idea.
Aside from football, New England has a lot of variety of the human experience: steady habits in Connecticut, socialists in Vermont, cranky individualists in New Hampshire, a Tea Party governor in Maine, a Republican-turned-Independent-turned Democratic governor in Rhode Island, an African-American governor in Massachusetts. But wherever you go in this fair territory, same-sex couples can get married. That's how we roll.